I've been trying to think of the best way to get things started with this blog and I thought that this might be the best way. I'm sure most of you are somewhat familiar with one or both of us but here are a few little bits of info we thought we'd share.
20 Facts About Lexi (Alexis)
1. I feel naked with unpolished toe nails ( I was naked for a whole day this week)
2. I am a quarter Indian (dot not the feather)
3. I have to read before I can sleep...and I love to read!
4. I absolutely hate being cold, snow is the enemy!!
5. I have a strange obsession with zombie movies...especially the Resident Evil series!
6. My favorite show is So You Think You Can Dance.
7. I can admit I have too many shoes...but I'll also admit that I need more!
8. I look good in the color coral.
9. I collect Santa's.
10. My grandpa developed part of Las Vegas and has streets named after him....therefore I have a special love for Vegas.
11. I would love to go to Spain and Harbour Island before I die.
12. I never leave home with out earrings on.
13. If I could be anything I would be a wedding planner... I love all the details.
14. I love the color of my hair...I hated it when I was younger but love that it makes me different now.
15. I am EXTREMELY protective of my family and friends. Don't mess with them or you'll have to mess with me too!
16. Not to brag but I am a really good primary teacher....however I don't like to be around other peoples kids (there are few exceptions).
17. I love to sing...and I make up my own lyrics if I don't know them...sorry I know it bugs people!
18. Over the past 2 years I've had the lowest lows and highest highs... I am a better person and am happier than I have ever been.
19. I'd rather spend time with my family than anyone else except maybe Andrea and her girls but they are basically family.
20. I am amazed at how lucky I am to have Robert and love that everyday he makes me love him more and more.
20 Facts (according to me) About Robert
1. Robert speaks a foreign language( it might be taught in Nebo school district) I call Roberteese or Springvilleese. It includes words like "fiesto-night" and calling everything "dudes".
2. Robert LOVES the Ute's everything he owns is pretty much red, black, and white!
3. He's a carpenter and he's very good too! ( He use to have his own business before the economy turned, and even did work in the Oquirrh Mnt. Temple.)
4. He is also an OR Tech/OR Manager.
5. Robert loves music! He likes to download, catalog, ect.. for fun. Don't even try to play Music Scene It With Him... he will kick your butt!
6. Robert kills ducks...it's true he has a boat dedicated to it.
7. He also is a bow hunter and apparently a very good one too. He even shoots carp!
10. Robert is brilliant and I am not just saying that...he knows a lot and if he doesn't know something he will find out about it.
11. Robert's hero/best friend was/is his grandpa Louie.
12. He makes the best enchiladas on the earth...they are famous in Springville, American Fork, and Flag Staff.
13. Robert loves to ice fish. ( he even thinks I will go with him someday ha ha ha)
14.Robert is very helpful and is a very hard worker...it is one of his very best qualities.
15. Robert loves cargo shorts, and polo shirts and he wears them 95% of the time.
16. Robert can build a fancy table in a Saturday....I've seen it happen.
17. His favorite show is Myth Busters and he wishes he could be one. He loves science.
18. Robert is the best husband, he cooks, he does dishes, and he can fix anything!
19. Robert is so hot that men hit on him right in front of me...it happened twice in one day!
20. Robert loves me and he does it unconditionally!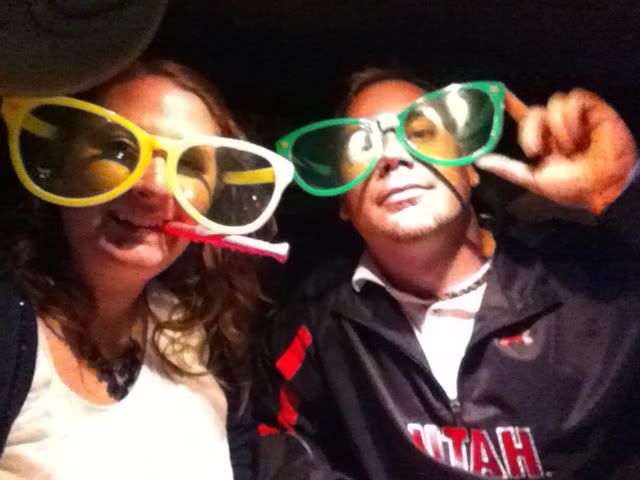 We are kind of a funny pair but but we are the perfect match for each other. Hope you enjoy following our blog.